Hey y'all, and welcome to the first week of Sunday Snaps: a weekly photography link up!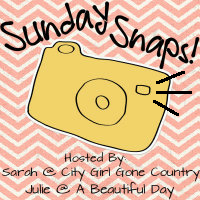 This week's theme is "Personal Best." Jules and I want to see and admire the 3 pieces of work that YOU are most proud of! I'll show you mine as an example :-)
A few months back I headed over to visit my friend's horse, Beau (pictured with me in my profile pic on Facebook). While my friend was getting Beau and bringing him back to meet me, I wandered across this beauty above, and snapped a quick pic!
I was fortunate enough to be asked to photograph an event through my work. The Armed Forces Bowl holds an annual golf tournament to commemorate their past year's sponsors. This was taken at the 2012 AFB golf tournament, honoring the 2011 sponsors.
This handsome little guy belongs to two dear friends of mine. When we all met up one day to catch up and enjoy some quality time, I couldn't help but grab the camera and take advantage of his curiousity of the camera and those beautiful eyes!
So, there you have it! My "Personal Best" photos. I'm sure I have plenty of others, but these were special to me not only for the photo turnout, but the stories behind them! I can't wait to see what y'all have in store on Sunday! :-D