Texas bloggers, get your "Paint & Wine" on!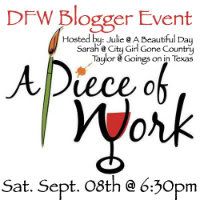 Julie at A Beautiful Day, Taylor at Goings On in Texas, and myself invite you to join us for a fantastic evening filled with wine, art, and much-needed girl time with your fellow Texas Bloggers! (If you're not already a member of the Texas Bloggers group on Facebook, Head over here and get to know us today!)
I am SO excited for this upcoming event! On Saturday, September 8th those who register and attend will be treated to wine, appetizers, and a fun art class. While I'm no artist myself, I've been told that these art classes are fool proof! The added bonus of being able to keep the artwork you create on the given canvas serves for perfect bragging rights is too good to pass up!
Click the event button above to be transferred over to the Facebook event page, where we will be updating y'all on the event as we get closer to the date!
I sincerely hope to see y'all there, as I would love to get to know each and every one of those in my Texas blogging community better!
Sarah B Texas
Psst: Want to share the event and/or button on your own blog? Go for it! We appreciate the support :-) Go ahead and grab the html for the event button below, and make sure to link back to us!