*** This giveaway has ended! Please stay tuned for future giveaway opportunities on my blog! ***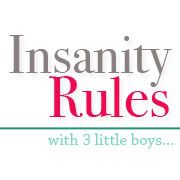 Hey y'all! I've got something in store for you that you won't want to miss! Recently, I made a proposal with y'all. If I could get to 65 "likes" on Facebook, I would contribute to a giveaway. Emily from
Insanity Rules
made a similar proposal for 100 "likes", and guess what?! Y'all did it! So it's due time to thank y'all and give you a great opportunity to win some awesome prizes!
What's up for grabs? A lot! Ad space from
My Beautiful, Crazy Life
, gift cards from Starbucks and Forever21, handmade gifts (including jewelry, sparkle signs, and coffee cozies), and more! Go check out
Insanity Rules' Blog Post
for more information on contributions and prizes!
So, what do you have to do to win this great spread? Get to entering! Be honest, because we will check. Have fun, and good luck!
a Rafflecopter giveaway
Giveaways