Hey Y'all! I'm guest blogging today over at Insanity Rules!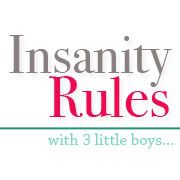 Emily has been kind enough to let me share my few examples of how to create a cute, homemade halloween costume instead of buying a store-bought one. With Halloween just around the corner, you can't get started to early on those fabulous outfits!
Check out my guest post HERE and let me know what you think!